Liquid Nitrogen Level Alarms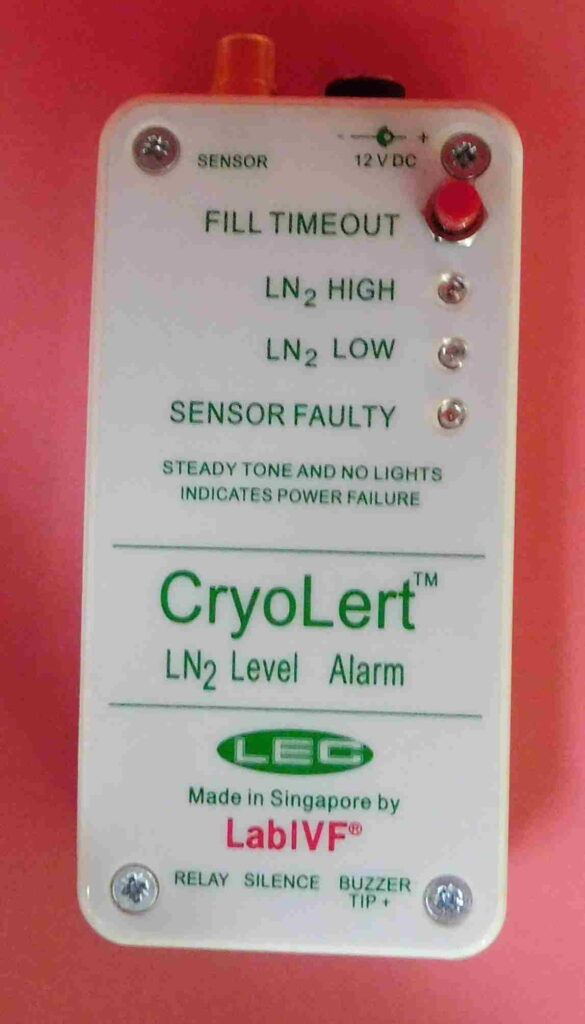 LEC 950 CryoLert Single Channel Liquid Nitrogen Level Alarm
Description
Protect your valuable biological specimens with CryoLert. This liquid nitrogen alarm alerts you to changes in LN2 levels. Vacuum in vessels can deteriorate over time causing LN2 to evaporate faster.
The CryoLert alert audible, visually and with relay contacts when: 
– LN2 level fall below sensor
– Sensor Failure
– Power Failure
The Fill Timeout switch disables the alarm for 10 minutes during filling.
 Accuracy of our cryogenic level sensor is +/- 5mm.
 Supplied with Single Channel Cryogenic Sensor(Please specify length on ordering)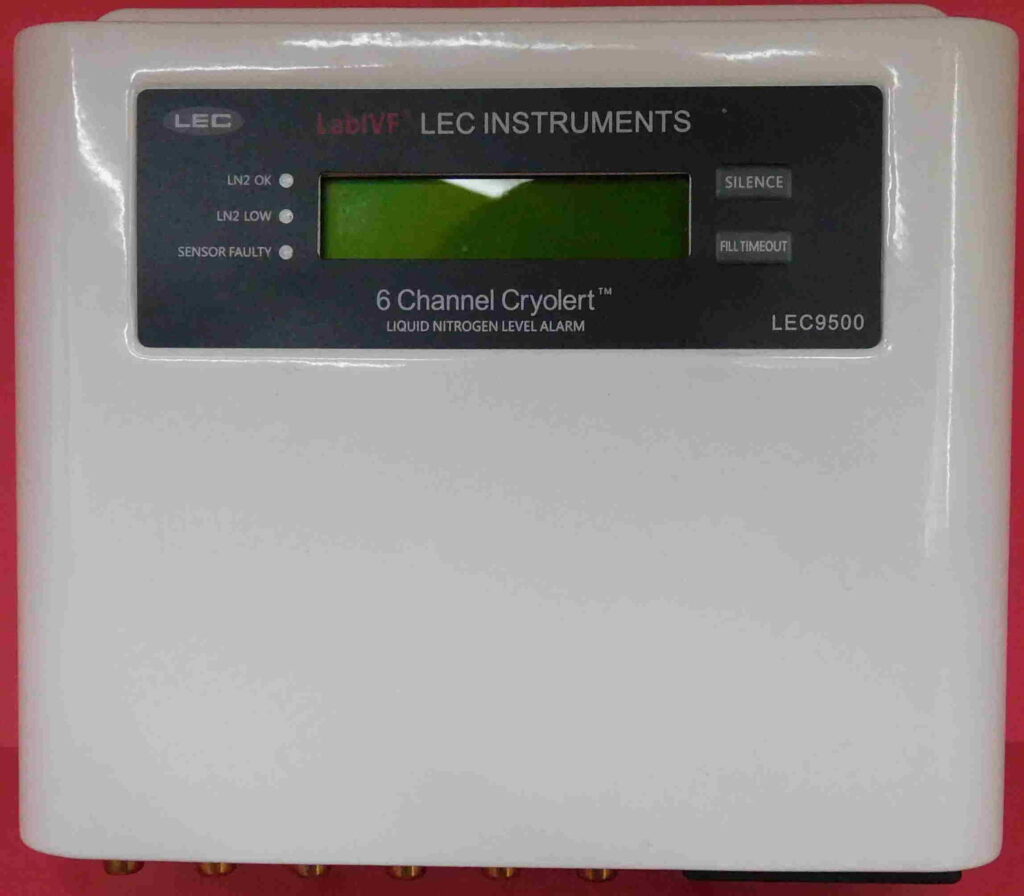 LEC9500 6 Channels Liquid Nitrogen Level Alarm
Description
The LEC9500 CryoLert has 6 channels for connections to up to 6 cryogenic tanks
Relay contacts for external alarm
Power failure indicator, with auto reset
Easy installation, 6 channel: bench or wall mounting
LN 2 fill timer disables alarm outputs, prevents false alarms, tank can be disconnected from the system during fill time.
Cryogenic Sensors not included, please order separately and specify length on order.
Inputs: 6 Power: 100 to 240 V AC 50/60 Hz, 5 W, universal IEC socket Sensor length: Specified by client Extension lead length: Specified by client
Noise level for internal buzzer: 60dB Relay contacts: via 3.5 mm stereo jack socket, change over (N/O or N/C), 100V, 0.5mA Weight: 800 grams
| | |
| --- | --- |
| Description | Order Code |
| LEC 950 Single Channel CryoLert LN2 Level Alarm | LE-950 |
| Replacement Cryogenic Sensor, specify length on ordering  | LE-CS |
| LEC 9500 6 channels CryoLert, complete with 6 cryogenic sensors | LE-9500CS |
| LEC 9500 6 channels CryoLert, without sensors | LE-9500 |
| Cryogenic Sensor for LEC9500 | LE-6CS |
| Terminator. To plug in unused cryogenic sensor output. | LE-TM |