Liquid Nitrogen Storage Cylinders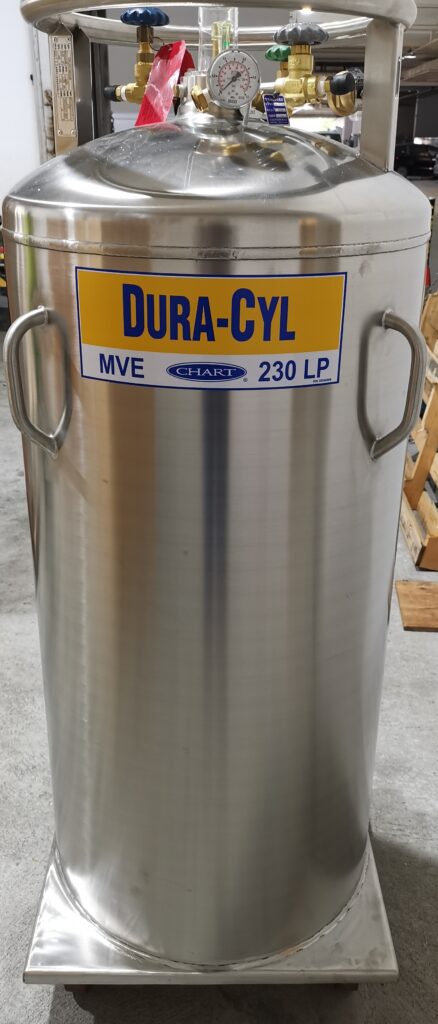 Description
The Dura-Cyl® Liquid Cylinder series is a premium transportable liquid cylinder for cryogenic
service. 
The patented internal support system design and quality construction makes the
Dura-Cyl series the most efficient yet rugged cylinder on the market today. 
With premium Liquid Cylinder Control Manifold (LCCM) regulator. Low Pressure models (LP) for direct connection to Controlled Rate Freezers and Cryogenic freezers with efficient LN2 saving and cost saving. 
Models supplied with Pressure Builder kits and casters.
Available from Chart USA or Chart China factories. 
| | |
| --- | --- |
| Description | Order Code |
| Chart USA Dura Cyl 120 LP RB, round base | 21524496 |
| Chart USA Dura Cyl 230 LP RB, round base.  | 21524498 |
| Chart USA Dura Cyl 230 LP SB, square base. | 21524499 |
| Chart China DC239LP SB LN2 Cylinder. GB Code | DPL550-240-0-69 |
| Chart China DC100LP SB LN2 Cylinder.GB Code | DPL450-106-0.35 |