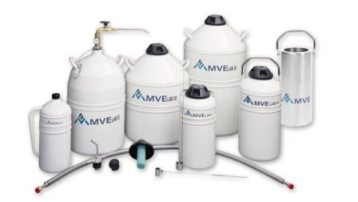 High efficiency superinsulated dewars are the most convenient and economical way to store and dispense liquid nitrogen.
Description
Can be fitted with pouring spout, pressurized dispensing device or dippers to aid in transfer of liquid nitrogen. Roller bases are also available for mobility
Available from capacities from 4 litres to 50 litres.
| | |
| --- | --- |
| Description | Order Code |
| Lab 5 liquid nitrogen storage tank, 5 litres | CM-9918079 |
| Lab 10 liquid nitrogen storage tank, 10 litres | CM-10740281 |
| Lab 20 liquid nitrogen storage tank, 21 litres | CM-13492631 |
| Lab 30 liquid nitrogen storage tank, 32 litres | CM-9918099 |
| Lab 50 liquid nitrogen storage tank, 50 litres | CM-9918109 |
| Roller Base (Please specify tank) | On request |
| Manual Discharge Device (Please specify tank) | On request |
| Phase separator with nozzle for DIscharge Device | CM-11724421 |
| 2 ft x 1/4″ Transfer Hose with M sized phase separator | CM-14044151 |
| 2 ft x 1/4″ Transfer Hose with S sized phase separator | CM-14044143 |
| Transfer hose with insulating material | CM-transfer hose |
| Phase Separator (Please specify size: S, M or L) | On request |